Tips On How Roller Skate Insoles Can Keep You Safe
Roller skating is a fun way to get some exercise and have a good time with friends. Unfortunately, not all skates are created equal. Some are poorly made, which can lead to serious injuries.
If you want to ensure your safety while roller skating, there are several things you can do. One of the easiest ways to do this is by getting roller skate insoles for your skates.
Can you use insoles in roller skates?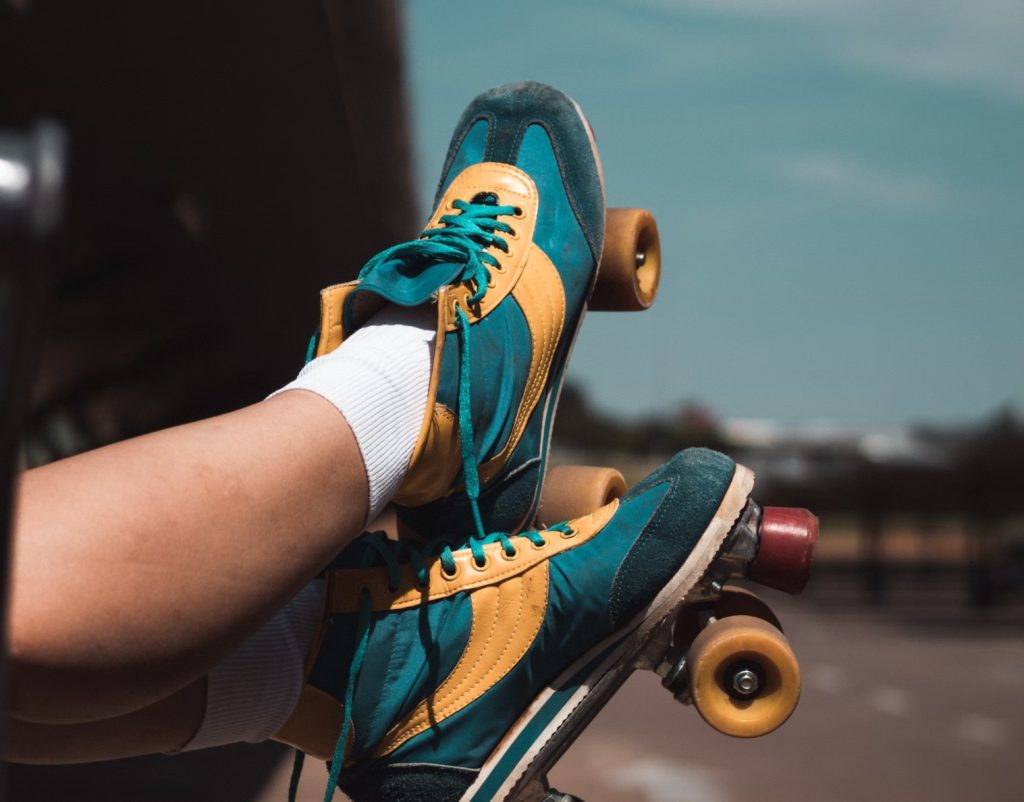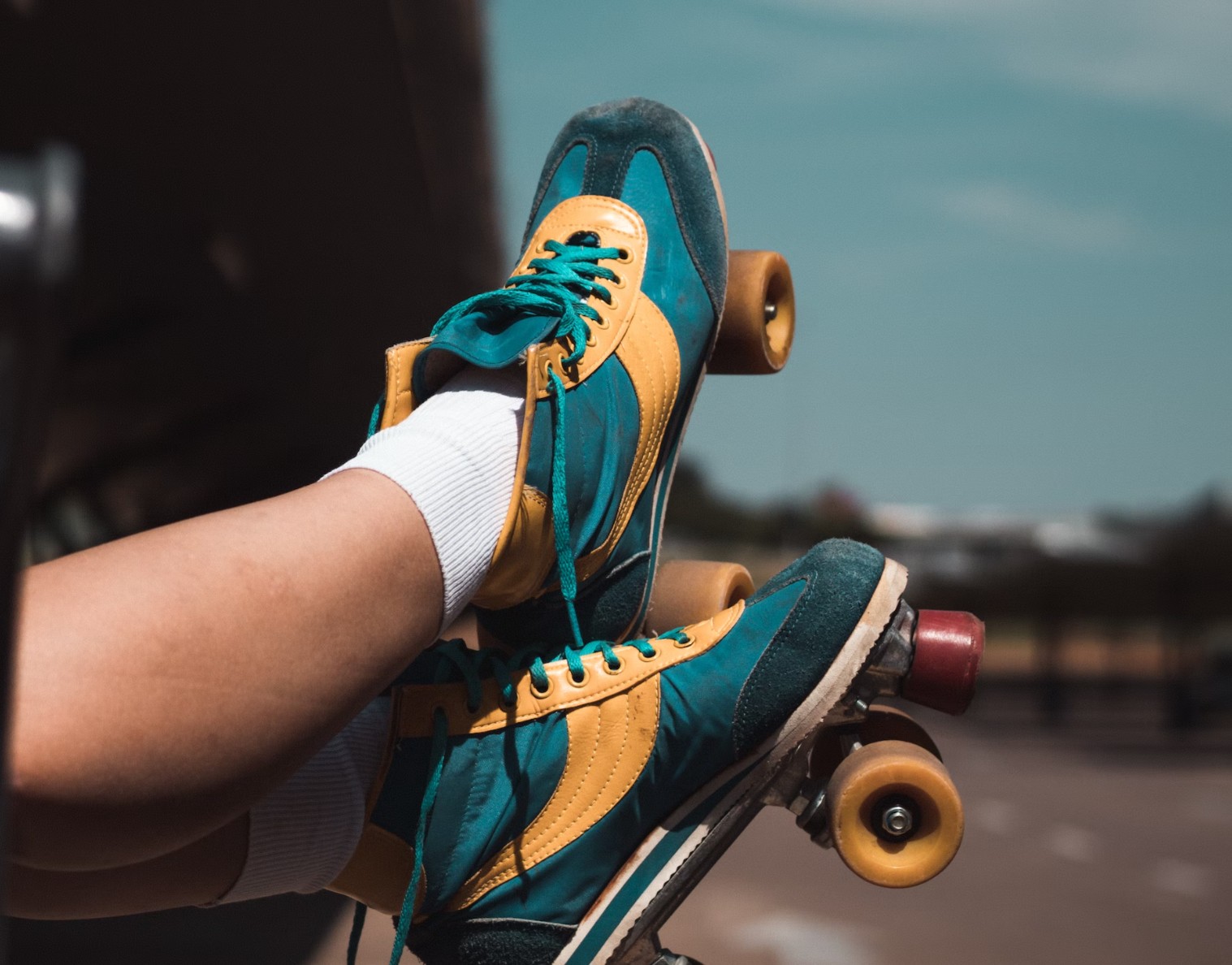 Have you ever thought about how your Roller Skates can be improved? There are many ways to improve your performance, comfort and prevent injuries. The best way is to use insoles for roller skates. Roller skate insoles can do a lot more than just replacing your old insoles. They will help you in improving your performance, comfort and prevent injuries.
The benefits of using insoles for Roller Skate are:
Improve your performance
Roller skating is a great way to exercise and keep fit, but it can also be hard work. With the right insoles for roller skates, you will find that you are able to skate faster, smoother and for longer periods of time. If you want to improve your performance on the rink, then this information can help!
Protect your feet from injuries
There are many benefits of using insoles for roller skate. One of the main advantages is that they provide protection against injuries. They help to protect your feet in several ways:
They protect the bones and joints of your foot from stress and impact, which can lead to injury.
They reduce friction between shoes and skin, which can lead to blisters, calluses and corns on your toes.
They absorb shock that's caused by repeated impact with hard surfaces such as concrete or asphalt (running shoes). This helps prevent muscle fatigue from running long distances!
In addition to protecting your feet from injuries like plantar fasciitis (inflammation), there are also other things insoles can do for you if you suffer from some common conditions such as ingrown nails, hammer toes or bunions.
Reduce Pain
The right pair of insoles will reduce pain from blisters, corns and calluses. If your feet are in pain when you get home after skating, it can make it difficult to continue skating regularly. Insoles will help you skate with more confidence so that you can continue to enjoy the sport that you love.
Increase Control
A good pair of insoles can help you better control your movements and balance, which will in turn improve your skating ability.
When you're cruising around on roller skates, it's important to have good control over the movements of your skateboard. You want to be able to move quickly and easily, but also slow down and stop at a moment's notice if necessary. A good pair of insoles can help with this by providing extra support for the feet. The right insoles can provide comfort that makes it easier for you to focus on performing other actions such as jumping or turning—and doing so in an efficient way!
Breathe-ability and Moisture Wicking
Breath-ability and moisture wicking are two of the most important aspects of insoles for roller skates. Roller skating is a fun activity, but you need to be comfortable in order to enjoy it. Breathable insoles will help keep your feet dry and cool, which makes them great for skateboarding or roller blading as well as other sports like football or basketball. Having good breathability also means that there will be less odor caused by sweat on your feet, so this feature is useful if you have sweaty feet or live in hot climates where sweating is common during summer months (e.g., Texas).
Moisture Wicking means that moisture from sweating doesn't stay on top of your foot because a special material absorbs water instead of letting it sit on top of skin like cotton would do when wet (and then get cold!). This helps prevent blisters while reducing friction during movement such as running around with friends at night while playing video games together after school hours end before dinner time begins back home again soon after midnight arrives.
Features to consider before buying an insole for Roller Skate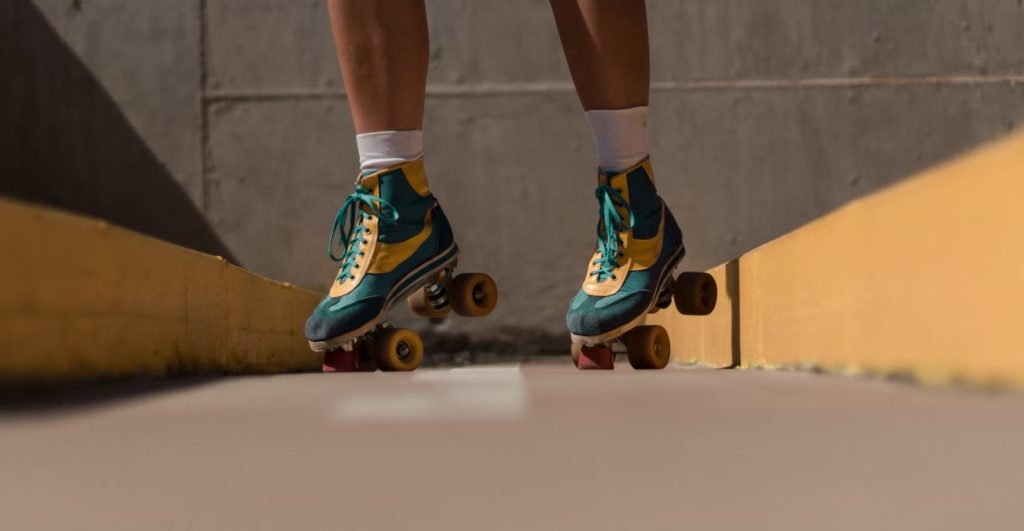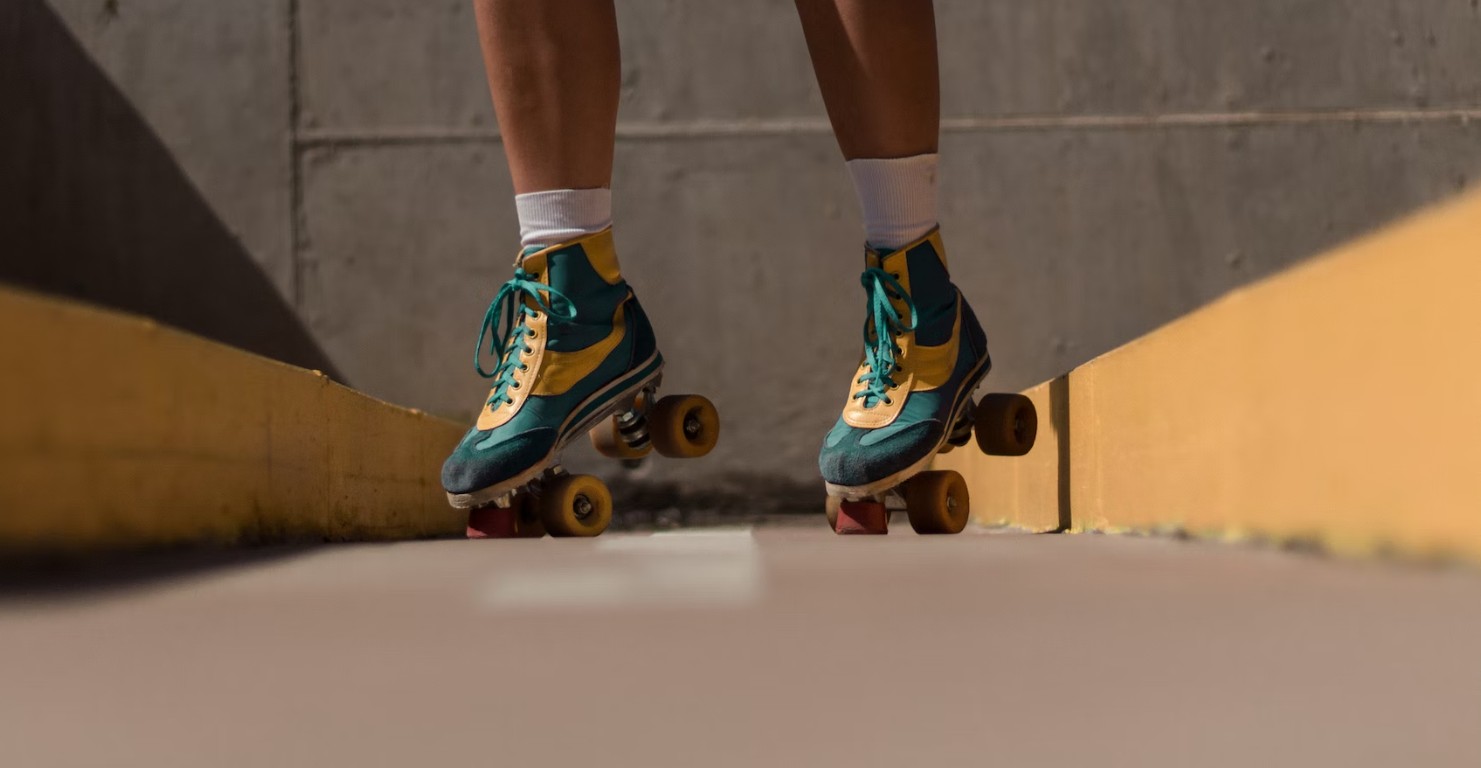 Whether you are a professional or an amateur roller skater, an insole will be your best friend.
Insole is like the best partner that anyone can have during their skateboarding activities. It provides comfort and support to the wearer's feet so they could continue skating for long hours without getting tired.
It also acts as a supporter of your ankles and knees by providing extra cushioning so they won't get injured while doing tricks or rolling over bumps on the ground while skating.
Quality and performance
This is the most important factor to consider when buying your insoles. You need to ensure that the quality of the insoles is good and they perform as expected. This will ensure that you do not regret your purchase and your feet remain protected while skating.
Material
The material of the insole is an important factor to consider when buying an insole for roller skates. The following are some of the most common materials used:
Cotton: This material is often used to make socks and other clothing items. It's soft and comfortable, but it doesn't provide much support or cushioning. Because of this, cotton insoles can be uncomfortable if you wear them all day long.
Nylon: Nylon is sometimes combined with other materials like cotton to provide more support and cushioning than pure nylon would offer on its own; however, it still isn't as supportive as leather or memory foam insoles would be.
Polyester: This material is often used in the construction of memory foam insoles. You can find polyester-based insoles that are made from 100 percent plastic or a combination of nylon and plastic. They are usually more durable than cotton or nylon, but they don't provide as much support either.
Rubber: Rubber is another common type of material used to make roller skate insoles. Most rubber insoles aren't very flexible and tend to be stiffer than other types of materials; however, they do provide good shock absorption and cushioning for skaters who need extra padding under their feet while wearing inline skates.
EVA Foam: EVA is a synthetic rubber that is often used in the construction of roller skate insoles. It's usually combined with other materials like nylon or cotton to provide more support and cushioning than pure EVA would offer on its own; however, it still isn't as supportive as leather or memory foam insoles would be. A EVA-based insole is more durable than cotton, but it doesn't provide as much support.
Leather:The leather ones are preferred by many people because they are very durable and comfortable to wear on your feet.There are several other types of materials which can be used in making these types of insoles such as fiberglass, foam etc., but they don't last as long as leather ones do. Leather insoles can last for up to 5 years if taken care properly by cleaning them regularly with specialized cleaning products made specifically for this purpose.
Gel:Gel insoles are also very good since they provide extra protection to your feet against any kind of pain or irritation during skating sessions.
Arch support
Arch support is important for several reasons. It helps to reduce the shock of your foot hitting the ground, which can lead to less fatigue and pain on your feet. It also helps improve your balance by ensuring that you are standing correctly when skating. The right amount of arch support in a skate can help you achieve better alignment and overall comfort while skating in general.
Arch support comes in many different styles and forms, but some types are more common than others. The most common type of arch support you will find is built into the sole itself, which is known as an "insole". In this case there will be one or two strips along the bottom of each skate's sole that provide extra padding for added comfort and shock absorption during use. Another way to provide additional arch support would be through inserts that go inside the bottom of each skate – these types are typically made from foam or gel material similar to what's found inside high-quality running shoes.
Cushioning
Cushioning is important for shock absorption, and it can be found in the heel and arch area. Cushioning can be achieved with gel or foam materials, or a combination of both. The best insoles for roller skate have top-notch cushioning that will keep your feet comfortable while you skate.
Elasticity
Elasticity is the ability of the insole to stretch and return to its original shape. This is important for shock absorption, as well as comfort. Insole materials with a high degree of elasticity will be able to absorb more impact and protect your feet from injury.
Top picks for the best roller skate insoles
We've picked out some of the best roller skate insoles for you to consider if you're looking to find the right fit.
There are a few different types of insoles available, but we'll focus on two of the most common ones: gel and memory foam. They both offer distinct benefits and pros, so it's important to know what they are before making your final decision.
Roamingfeet RMF-105 Roller Skate Insoles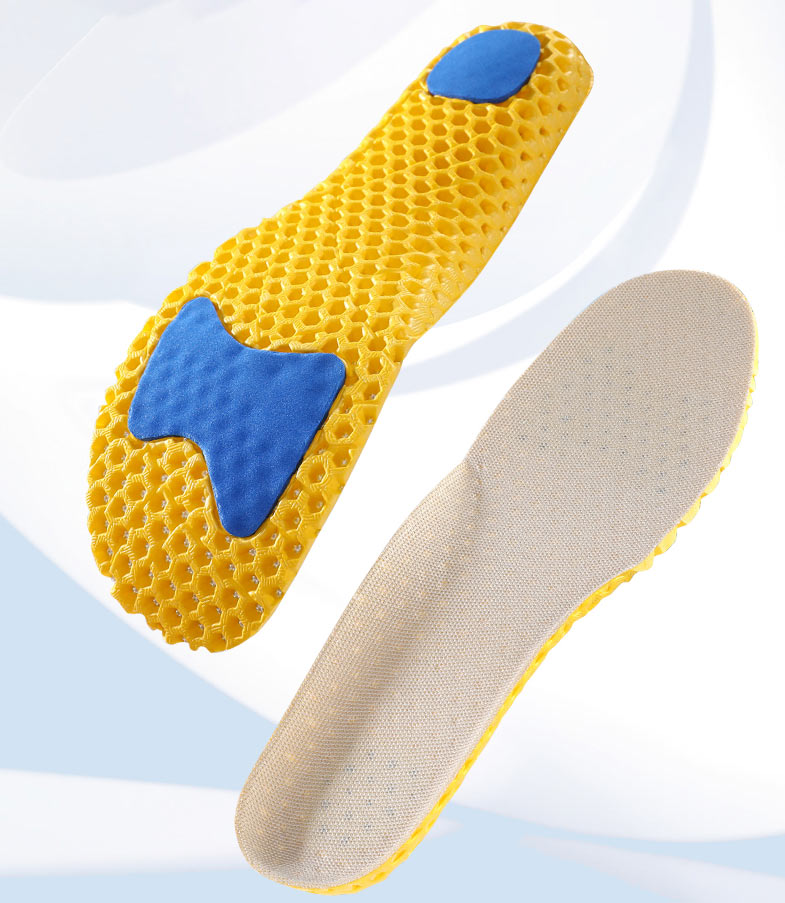 Give your feet a shock absorbing shoe insert that will help you skate like the pros.The Roamingfeet RMF-105 insoles are made of high density EVA foam, which is a very durable material used by athletes and trainers to protect their feet from injuries.
The RMF-105 roller skate insoles are designed to protect your feet and improve performance. These insoles are made of high-density foam and feature a molded design that contours to the shape of your foot. This helps provide extra support for your ankles, knees and back during skating. The insoles also have a tongue stabilizer that keeps the insole from sliding out from under your foot during use.
The insoles are made of a non-slip material that grips the surface of your boot or shoe so they don't slip out when you're skating. The RMF-105 also feature an antimicrobial coating that keeps them fresh between uses. This can help prevent foot odor and staining on your skates.
Roamingfeet RMF-105 Roller Skate Insoles are designed for tired achy feet to help reduce 50% stress and impact while increasing cushioning. The insole absorbs the impact and shock during walking or running. It is thin and fit for all shoes such as work shoes, athletic shoes, roller skate shoes, and more.
These roller skate insoles come in several sizes to fit all types of shoes, including men's sizes 6 through 16, women's sizes 6 through 11 and youth sizes 4 through 9.. The RMF-105 is an ideal replacement for worn out insoles or for those who need more comfort or support for their feet. Each pair of insoles are individually wrapped in plastic bags with instructions printed on them for easy installation.
Features:
Improves air circulation and breathability
Special honeycomb holes at the bottom of insole reduces odors and keep insoles fresh
Absorbs the impact and shock during walking or running
Trim to fit any shoe
Sure-Grip Super-X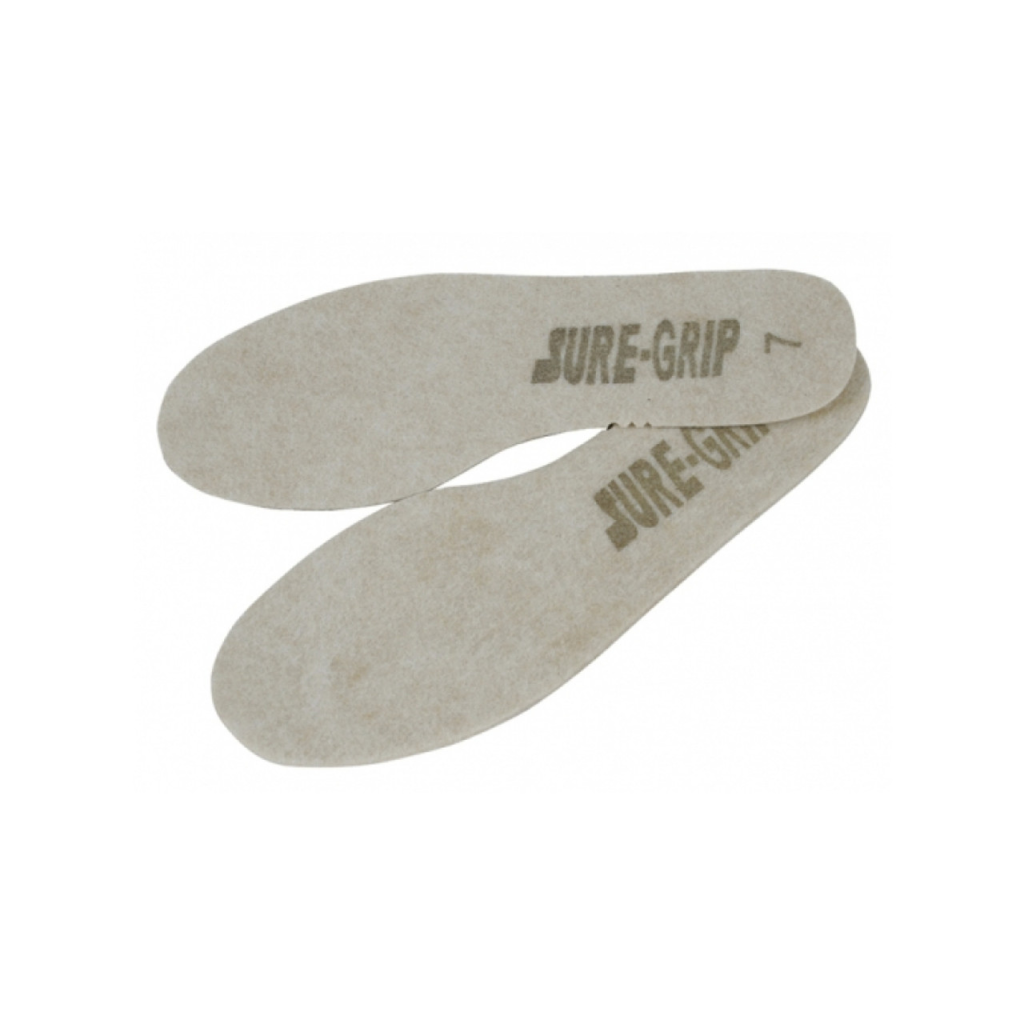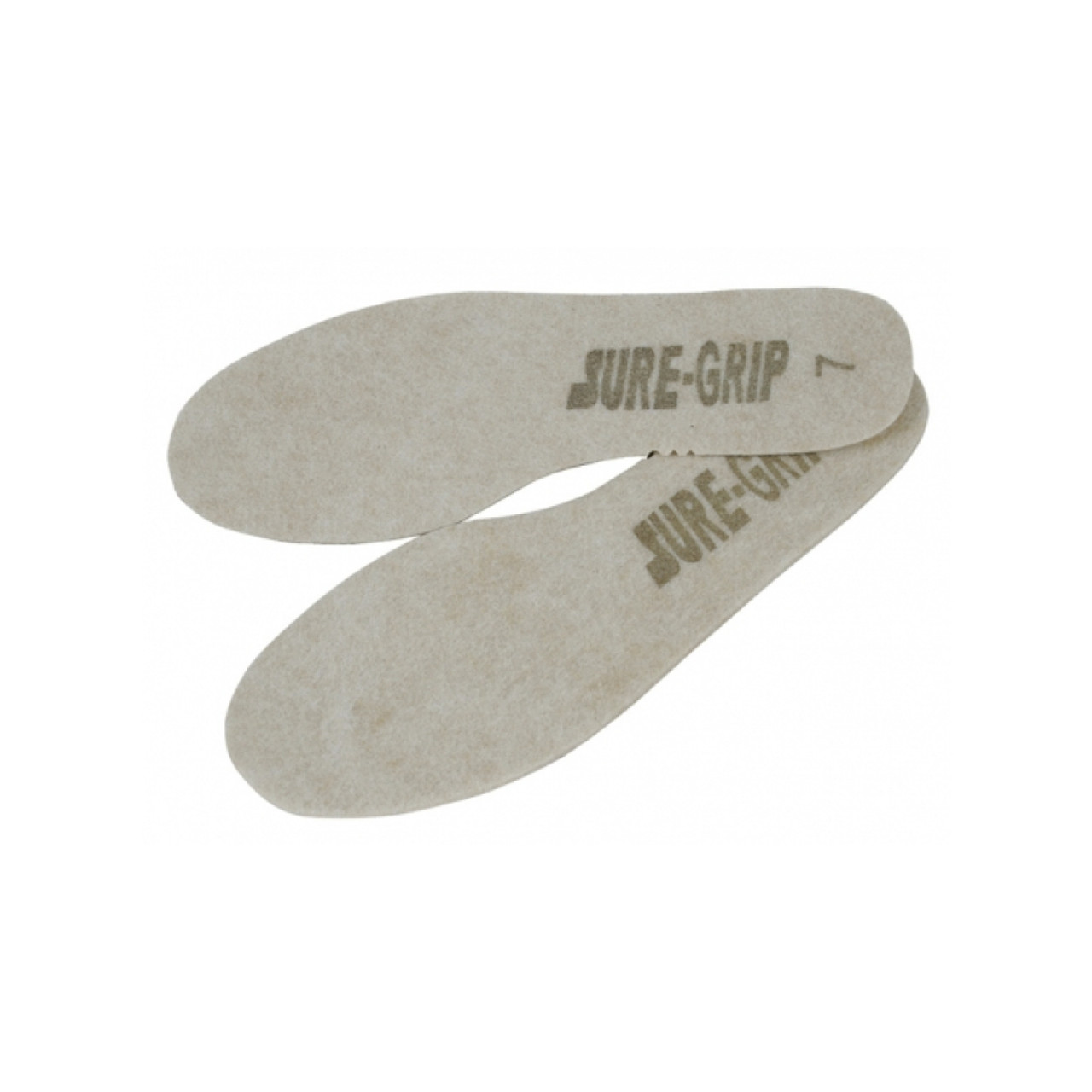 The Sure-Grip Super-X is a high performance insole that offers a great deal of support and comfort. It's made with super high density foam and comes with a firm heel cup, thick ankle support and toe box. This means you can expect the best protection, comfort and durability from this insole. The Super-X also has an exclusive Super Grip material which provides incredible traction on any surface whether it's smooth or rough.
The Suregrip Super X is one of the most popular roller skate insoles on the market today due to its versatility with fit many types of skates from beginner through professional skaters as well as quads or inline skate users alike who are looking for maximum comfort and performance when skating indoors or outdoors!
Riedell 965 Deluxe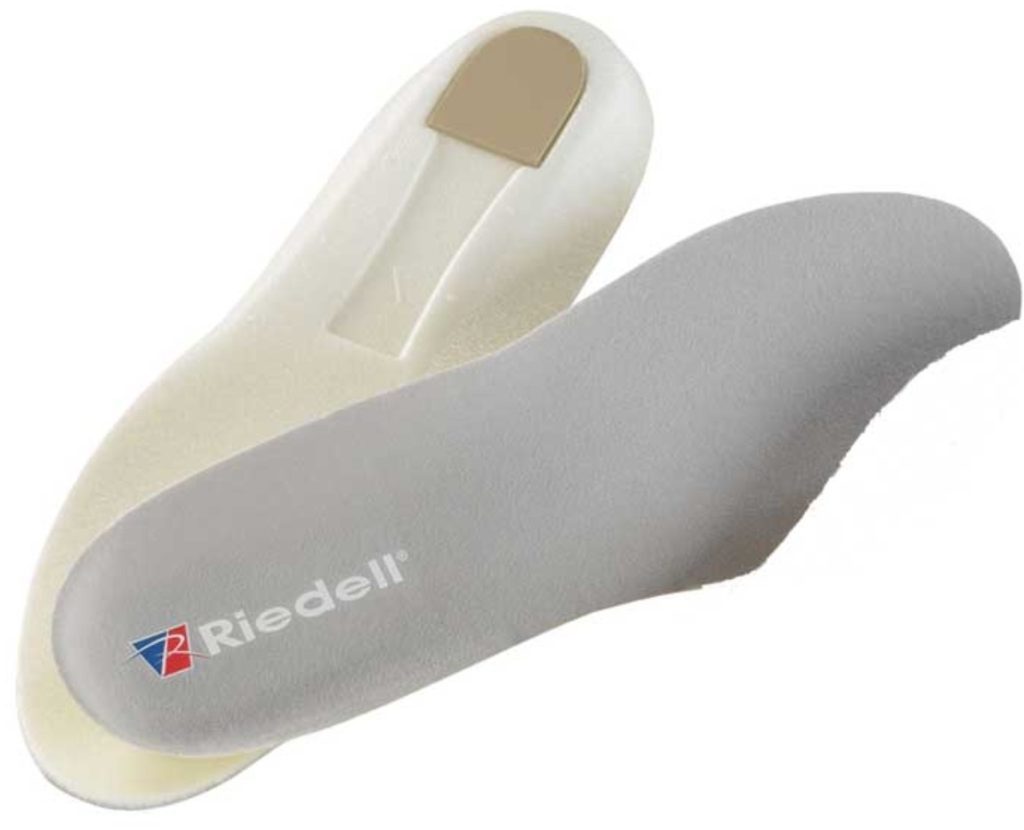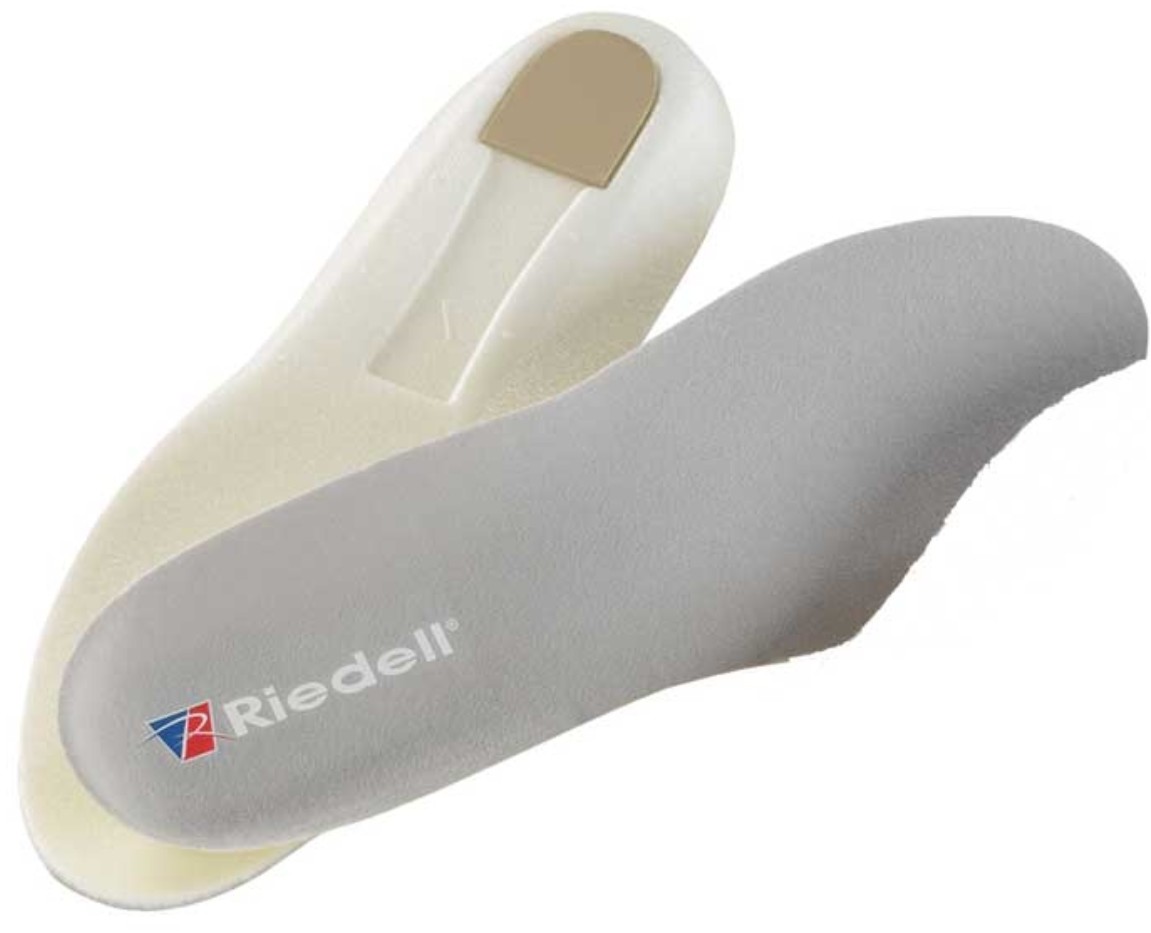 The Riedell 965 Deluxe Roller Skate Insoles are a great pick for beginners. Their high-quality construction and comfortable fit mean that you can spend more time skating and less time worrying about your feet hurting. These insoles will also last longer than other brands, so you won't have to replace them every week or two.
Supportive: The Riedell 965 Deluxe Roller Skate Insoles come with a heavy duty shock absorbing EVA foam core that adds support to the arch of your foot without compromising comfort in any way. This makes them suitable for people who have flat feet or high arches, as well as those who just want more cushioning under their feet when they skate.
Comfortable & Durable: The outer layer of the insoles is made from thick leather material designed specifically for durability while still being soft enough on your skin so that you don't get sore spots from constant friction around your heel area or toes (like some cheaper models might). They feature top stitching along all edges which helps keep this layer intact over time by preventing fraying or tearing apart when subjected to heavy impacts during use."
Bont Quadstar Speed Inline Skate Insoles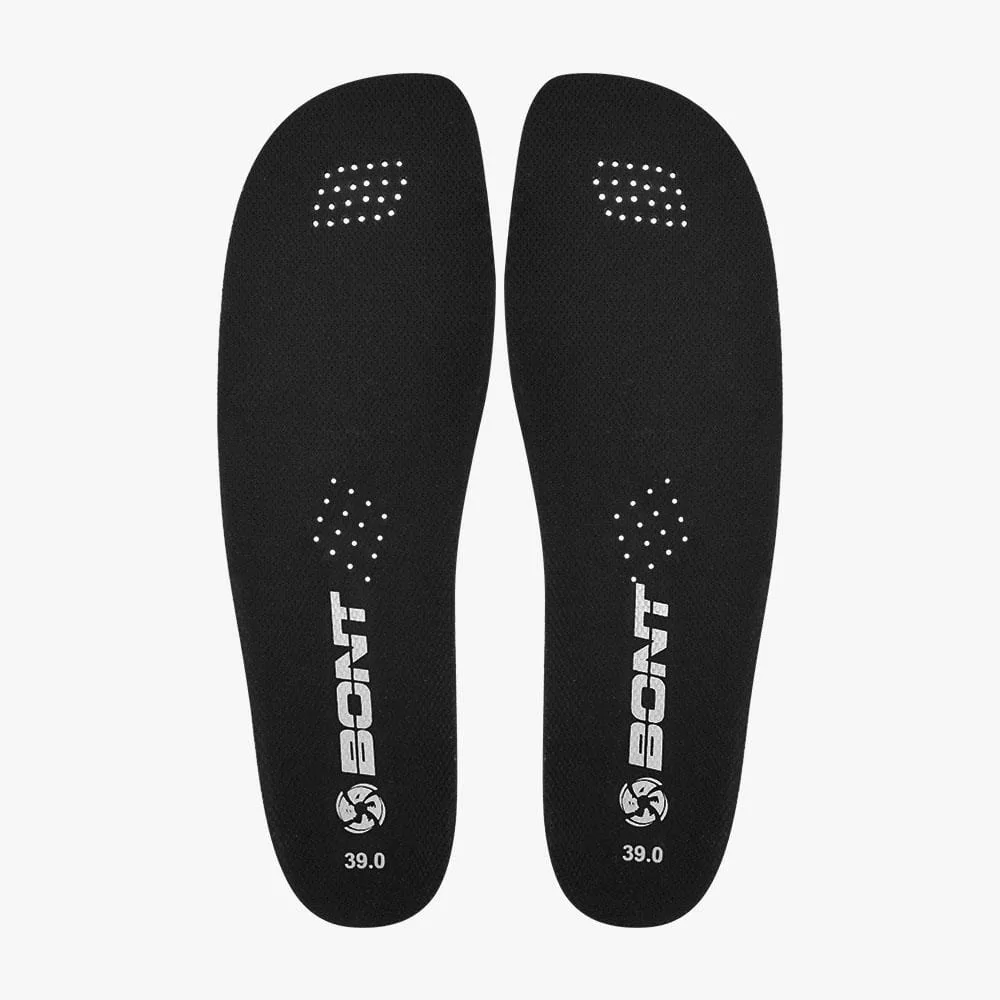 Bont Quadstar Speed Inline Skate Insoles are made from a high-quality and lightweight material that provides great support for your feet.
The insoles are designed to improve your skating performance by providing comfort, better control, and stability throughout your skating session.
The insoles feature a flat design that allows you to have better balance when you're on the rink. They also have an EVA foam base that's shock absorbent, making them ideal for inline skaters who want to take their game to the next level.
Bones Reds Skate Insoles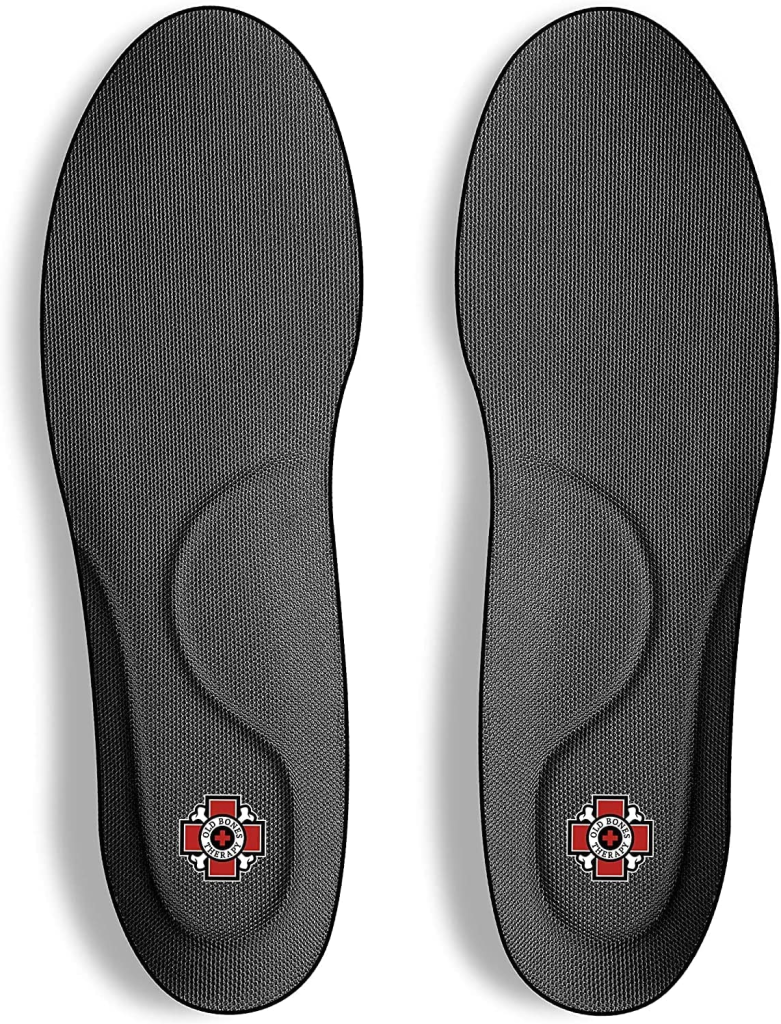 The Bones Reds Skate Insoles are made of a high-density foam material that absorbs impact, which means you get the most out of every step you take. These insoles also have a special shock absorbing heel cup that protects your heel from impact during skating.
To install these insoles in your roller skate shoes, simply remove the existing insoles and slide the new ones into place. They fit all types of roller skate shoes, including inline skates, quad skates and aggressive skates.
Sure-Grip Black Fleece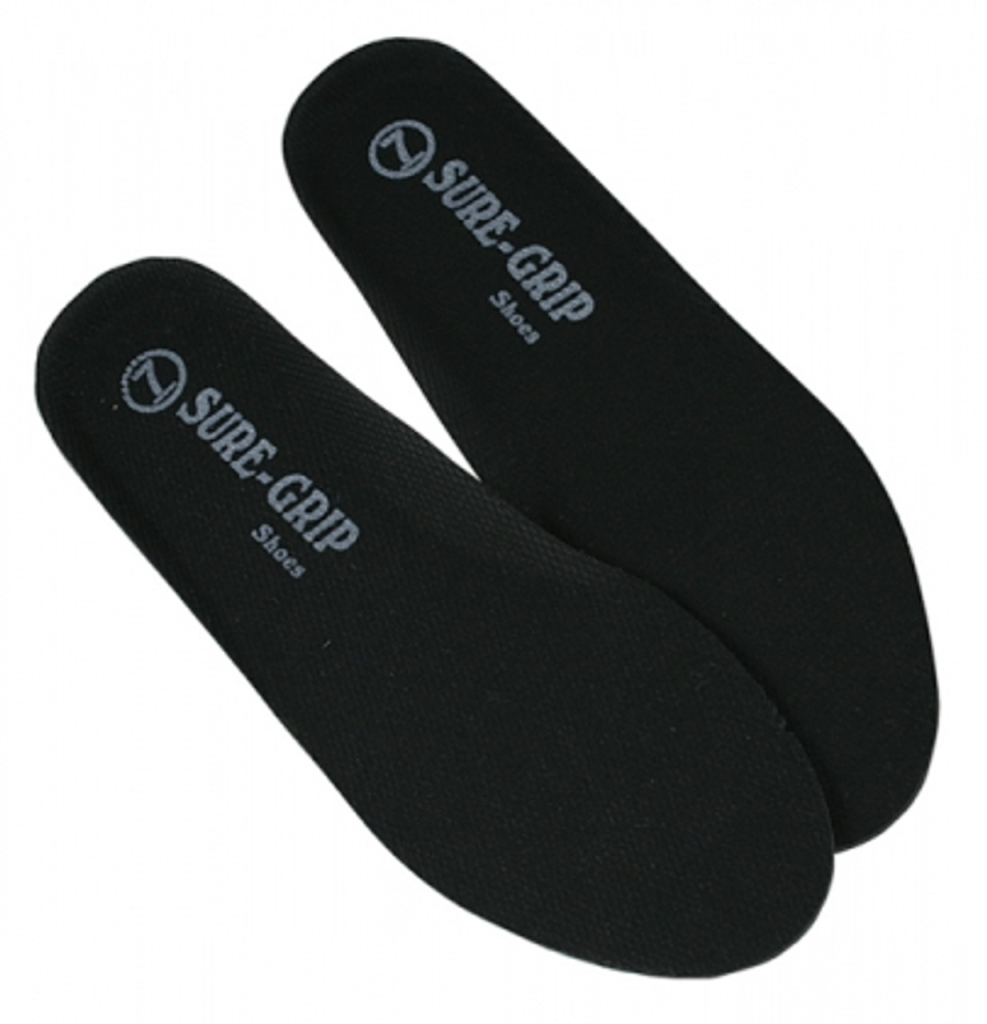 The Sure-Grip Black Fleece Insoles are designed for roller skates. They are made of a soft, durable fleece and have a cushioned heel area. The Sure-Grip Black Fleece Insoles can be used with any style of roller skate shoes. These insoles are sold in pairs and come in small, medium, large and extra large sizes.
The Sure-Grip Black Fleece Insoles work well in any pair of skates. Roller skating is a fun activity that can be enjoyed by people of all ages. Roller skates provide an easy way to get around, while also helping you to stay fit at the same time.
The Sure-Grip Black Fleece Insoles provide comfort and support when you're on your feet all day long. They are made with soft materials that mold to your foot for great all-day fit and feel. This means that you'll be able to enjoy your favorite sport without having to worry about not being comfortable while doing so.
Superfeet HOCKEY Comfort – Foam Insoles for Skates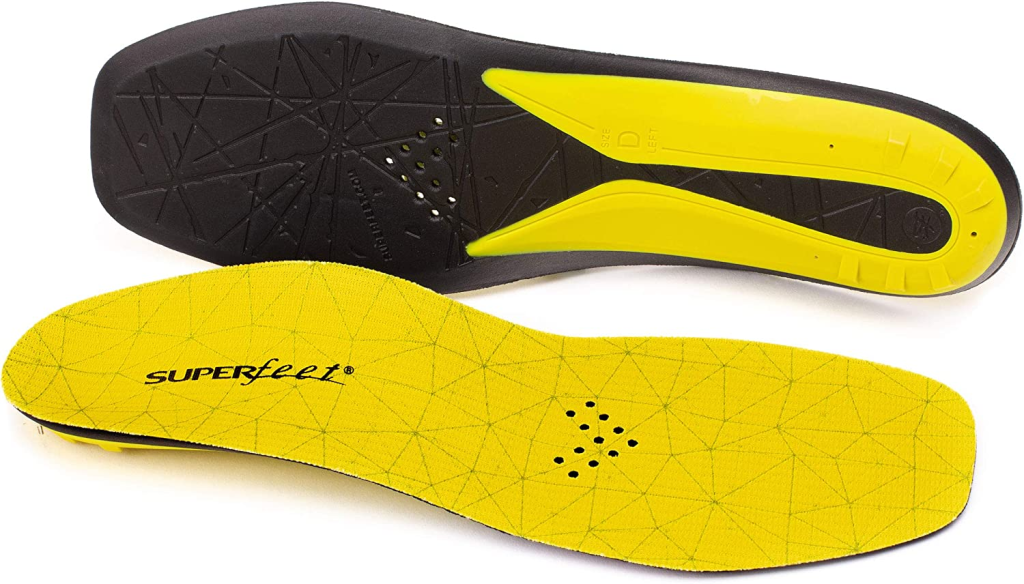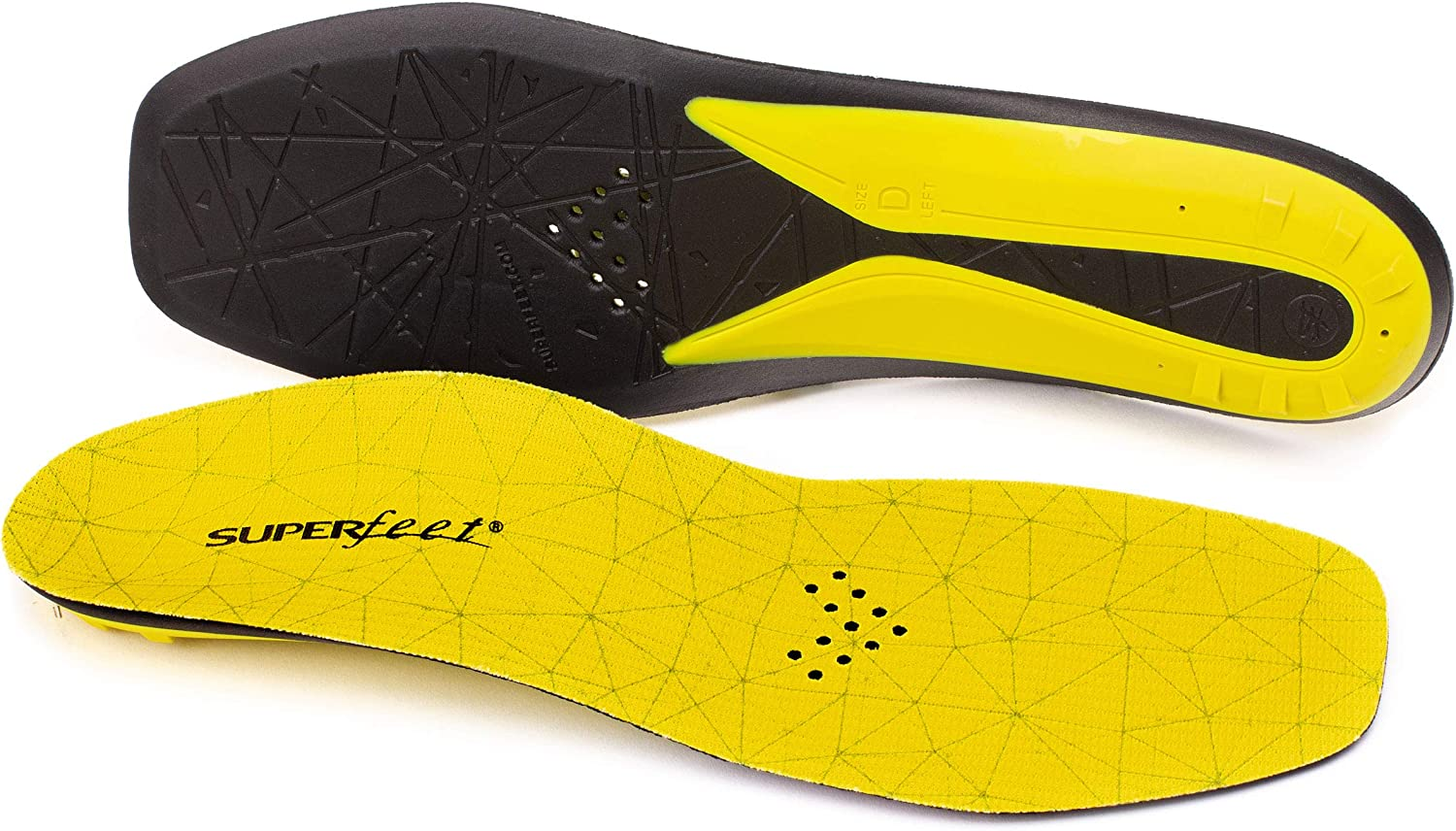 Superfeet HOCKEY Comfort is a great choice for skaters who are looking for a comfortable and durable insoles. This insole features an EVA foam construction that provides a soft cushioning effect to your feet. The footbed is made from high density EVA foam that makes it flexible and comfortable. The heel cup of this skate footbed provides extra support to your heels, making it easier for you to move around without feeling any discomfort on your heels.
CURREX HockeyPRO Insole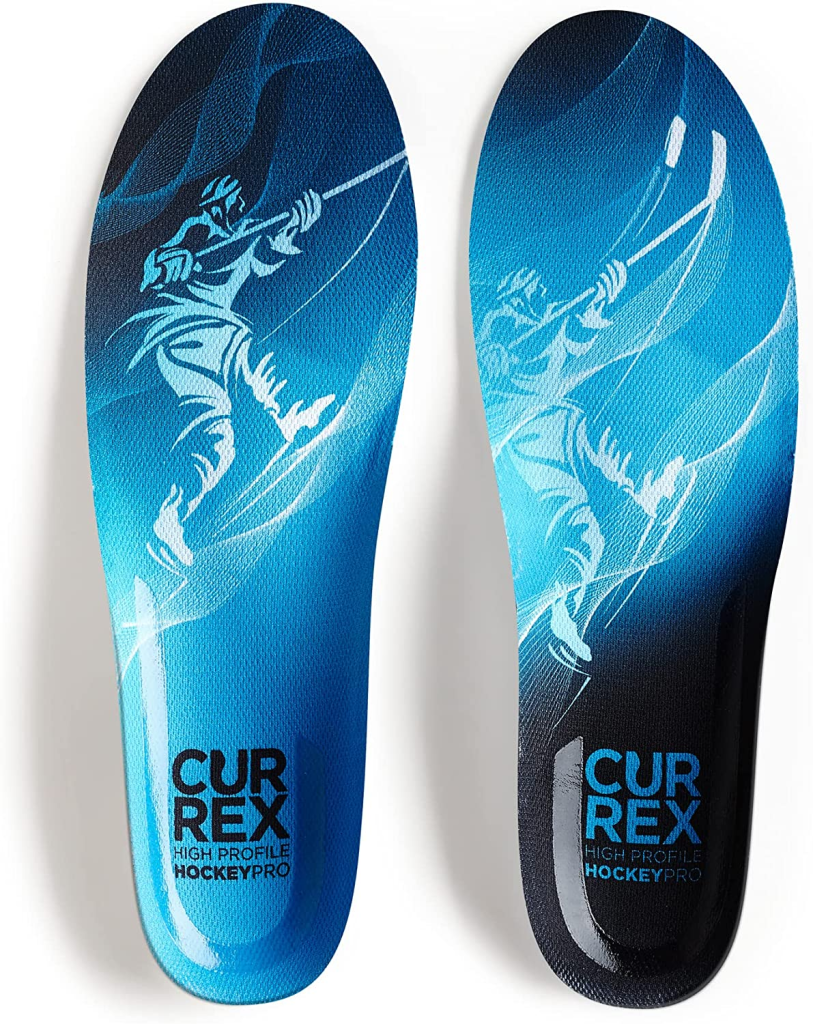 These insoles are designed to add extra support and comfort to your inline skating. They feature a contoured arch support that offers more stability and a shock-absorbing heel pad that relieves pressure from the Achilles tendon. These insoles also help prevent plantar fasciitis and shin splints by relieving pressure on your feet. The memory foam padding makes them comfortable enough to wear all day long. The CURREX HockeyPRO Insole is perfect for both beginners and experienced skaters alike.
Happystep Shoe Insoles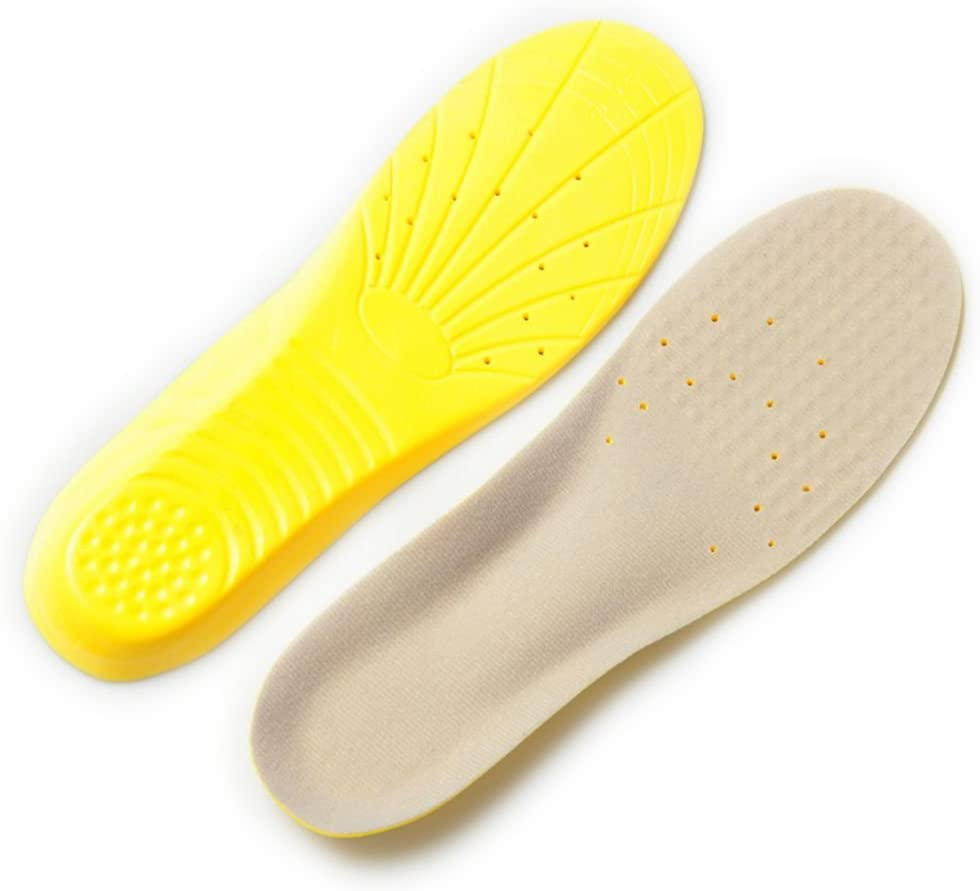 Happystep Shoe Insoles Orthotic PU Memory Foam Insoles, Comfort Insoles Providing Arch Support, Cushioning, and Shock Absorption, Plantar Fasciitis Foot Pain Relief for Men and Women for Everyday
These Happystep Orthotics are designed to fit in your roller skates. They are made of memory foam and have a soft leather top layer. These insoles have a high arch support that is great for people with flat feet or high arches. They also have great shock absorption to help prevent stress on your joints. The insoles come with a satisfaction guarantee so you can try them risk free.
Dr. Scholl's Work Massaging Gel Advanced Insoles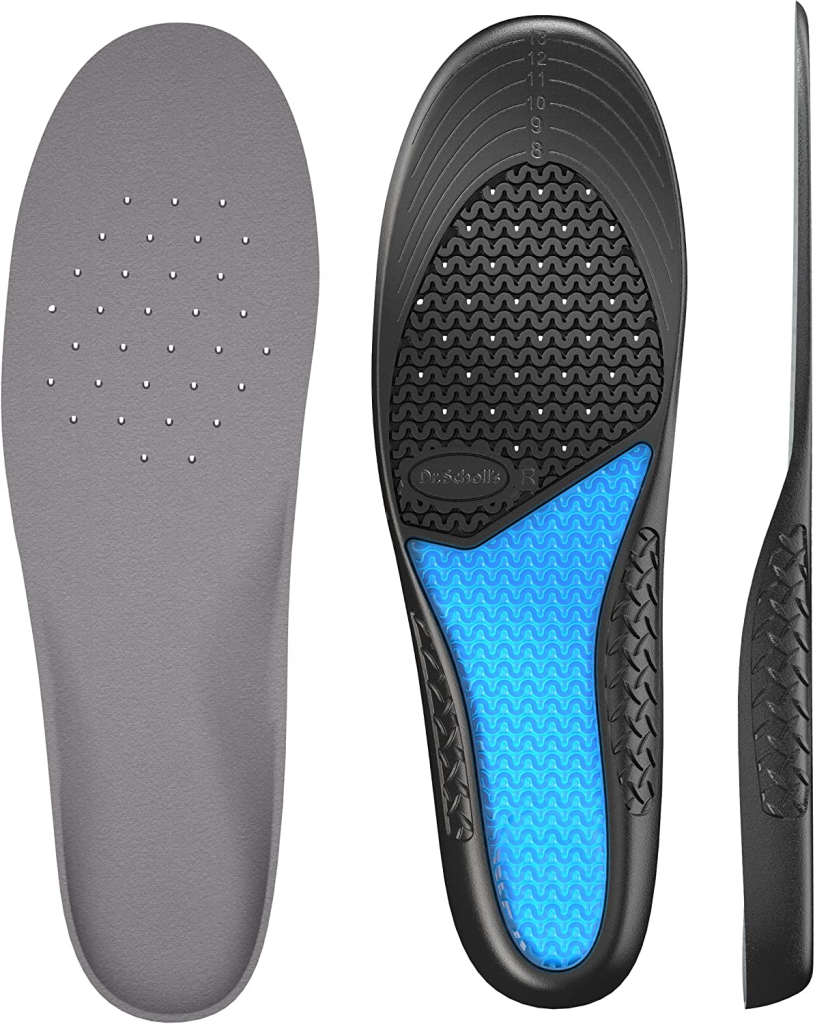 Dr. Scholl's WORK Massaging Gel Advanced Insoles are designed to relieve foot pain and fatigue with massaging gel technology. Featuring a cushioned footbed that provides all-day shock absorption and cushioning, these insoles are great for roller skates. The supportive design also provides stability and can help reduce foot fatigue and stress on joints. These insoles are also latex free and odor free.
Tips On How relieving foot pain from roller skating
Roller skating is a great way to have fun and stay fit. However, it can also cause foot pain if you aren't careful about how you roll. The wheels of your skates put pressure on different parts of your foot, which can lead to discomfort or even injury. Luckily, there are many ways to relieve this pain that don't involve giving up skating!
Add supportive insoles to your skates.
If you're looking to add some more cushioning and comfort to your skates, supportive insoles are a great option. Orthotics are a type of supportive insole that can help with foot pain caused by excessive pronation or weak arches. You can also find custom-fit insoles made specifically for roller skating, or even just wear an old pair of tennis shoes inside your skates.
Other options include EVA shoe inserts; however, these may not provide enough support for all types of foot pain. If you want extra support but don't want something as bulky as orthotics or custom insoles, try using an insertable eva foam heel pad instead!
OTC pain relievers
You can take over-the-counter (OTC) pain relievers, which come in various forms. These include ibuprofen, acetaminophen, aspirin, and naproxen.
These medications are available over the counter and are generally safe for long-term use. They may be appropriate if you have occasional pain from roller skating that doesn't require more intensive treatment.
If you've been diagnosed with plantar fasciitis or another type of foot pain caused by inflammation in your feet or ankles, taking an OTC nonsteroidal anti-inflammatory drug (NSAID) like ibuprofen may be helpful for relieving your symptoms. NSAIDs block chemicals called prostaglandins that cause inflammation in the body; they're found in most types of arthritis pain medications as well as OTC products such as Advil® and Tylenol®.They can temporarily relieve swelling associated with plantar fasciitis.
Rollasole shoes
Rollasole shoes are a great option for those looking to relieve foot pain from roller skating. These shoes have a built-in roller skate wheel, which makes it easy to control your movements and prevents injuries. They are available in different sizes and widths, so you can get the best fit for your body type! Rollasoles are also very easy to use: just put them on like any other pair of shoes, then start using them! If you're looking for something more active than just walking around, there are various ways that these shoes can be used outdoors or indoors.
Accupuncture
Whether you're new to skating, or an old pro looking for some new moves, the key is to get the most out of your roller skating experience by taking care of your body.
If you haven't already found an acupuncturist who specializes in Roller Skating, here are some tips on how to get started:
Ask other skaters where they go. If they're happy with their practitioner and treatment plan, that's a good sign!
Research online reviews from patients who have been treated by different practitioners; look for commonalities between each patient's experience (are their descriptions consistent?)
Talk with friends and family members about whether or not acupuncture helped them when they were injured (or otherwise). If someone says "I never thought I'd be going for acupuncture," chances are high that it'll work for you too!
Ice your heels after skating.
Use some type of ice pack or bag of ice and apply to the bottom of your feet for 10 minutes, until they start to feel numb. You'll want to use a towel to protect your skin from getting too cold and avoid burning yourself on the ice. A deep tissue massager can also be used immediately after skating if you don't have access to an ice pack or large enough freezer for bags of frozen water.
Wrap your feet in cold towels and then massage them afterwards.
To relieve foot pain from roller skating, wrap your feet in cold towels and then massage them afterwards.
This can be done by soaking your feet in an ice bath, applying a topical anti-inflammatory cream to the foot soles or using a deep tissue massager.
If you have access to these tools, soak your feet in an ice bath for about 15 minutes before massaging your feet with a deep tissue massager and applying supportive insoles to your skates (if necessary).
Soak your feet in an ice bath.
Soaking your feet in an ice bath after skating is one of the best things you can do for them. The ice will help reduce inflammation, which can help prevent blisters and reduce swelling. You should soak for at least 20 minutes, but it's okay to do this as often as you want!
Fill a bathtub with cold water and add enough ice to cover the bottom of the tub.
Soak your feet in the cold water until they feel numb—about 20 minutes should do it (but again, keep going if it feels good). If your skin starts getting red or wrinkly from being exposed to extreme temperatures too long, stop soaking immediately and put some moisturizer on your skin before it gets too dry!
Use a deep tissue massager.
After you skate, use a deep tissue massager to help relieve pressure on your feet. It will also improve blood flow and circulation, which will keep you from feeling sore in the morning.
Stretch in the shower.
Stretching in the shower is one of the best ways to relieve foot pain from skateboarding. It's easy, relaxing, and you can do it at home or at the gym. Plus, it helps prevent injuries!
All you need is a rubber ball or other foot-shaped object. Place it under your foot with your heel on top of it. Slowly roll up onto your toes as far as possible without causing pain or discomfort. You should feel this stretch from just below your ankle to the middle of your calf muscles (the part that connects to your knee). Next, slowly lower yourself back down by bending at both knees until you're flat on your feet again. Repeat this exercise for about 5 times each day until those sore muscles are feeling better!
Take an anti-inflammatory medication that's right for you.
If you're looking for a simple way to relieve your foot pain, NSAIDs are a good place to start. This class of medications reduces inflammation and swelling in the tissues by blocking enzymes that cause pain and swelling. Ibuprofen and naproxen are both common over-the-counter versions of NSAIDs, but aspirin and diclofenac also work well for people with milder cases of foot pain. Celecoxib is another prescription option that has been shown to reduce inflammation without causing stomach upset as often as other NSAIDs do.
Apply a topical anti-inflammatory cream to the foot soles.
Anti-inflammatory creams are often used to reduce pain and swelling in the feet and ankles after exercise. These medications work by reducing prostaglandin levels, which causes inflammation and swelling. Examples of these types of medications include: ibuprofen (Advil), naproxen (Aleve), diclofenac (Voltaren) and piroxicam (Feldene). If you have questions about which type of medication is best for your needs, talk with your doctor first before using any over-the-counter medications without their approval.
Conclusion
One of the most important accessories for a skater is the right pair of insoles. Roller skating injuries can be painful, and it is best to avoid them. However, not all insoles are created equal.
Having the right pair of roller skate insoles is one of the most import thing when you are buying a pair of roller skates. There are a lot of things that you need to consider before buying a pair of roller skate insoles . When you are choosing these insole, make sure that they are not too thick or too thin, this will affect the performance of your skates.